Spring Online Food Drive
These are tough times economically and our food pantry needs us more than ever. More people than ever are in need of food due to the loss of jobs during the pandemic. Of course, the pandemic has also made it hard to safely collect and deliver food to the pantry. This has resulted in a severe food shortage at the food pantries. Thanks to your generous support of our Fall and Winter Food Drives, we are making a difference.
We have therefore decided to continue our online Food Drive efforts with our "Spring Food Drive". Here are the details:
Here is what one of our "Pre-COVID-19" Food Drives looks like: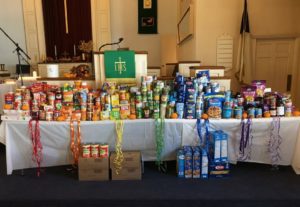 Here is what we would like our "Spring Online Food Drive" to look like:
We are going to collect your donations on behalf of the Long Island Council of Churches Food Pantry.
We will then send the money we collect to them and allow them to purchase the food necessary
to provide to families that are struggling to make ends meet.
There are two ways you may donate:
Write out a check to CUMC, and put 'Food Drive" in the comments section. Mail this check to:
Community United Methodist Church
100 Park Blvd.
Massapequa, NY 11758
OR
Use our Online Giving link to make your donation via ACH (i.e. your checking or savings account) or via Credit Card. Choose "Food Drive" in the "FUND" drop down, enter your payment info and submit it through our Secure Third Party Payment Provider (we don't store any of your information on our site).
How ever you decide to donate, we ask that you participate in this very important and worthwhile event.